A Natural Skin Cancer Cure – Iodine!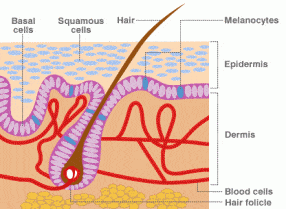 The research of Dr Tullio Simoncini (oncologist) in Rome shows that skin cancers epithileomas, basaliomas, and melanomas are caused by Candida fungus.
Epithileomas, basaliomas, and melanomas cancers have all been successfully treated with an iodine solution of 7%. This destroys the proteins in the fungus completely and works very quickly.
If the lesions are fairly small, they must be painted with the solution 10-20-30 times twice a day for five days and then once for another ten days so that they become very dark. When a scab (a skin crust) forms, it is necessary to continue to paint the iodine under and above it, even if at first this causes a sharp pain.
This needs to be repeated when the second scab forms. At this point, the lesion may be considered destroyed, because after the third cycle it is possible to reach the center of the neoplasia, which is the last strong hold of the colonies.
When a tumour is large it is necessary to perform a cycle of infiltrations below the skin with sodium bicarbonate at five per cent solution. This liberates the tissue from the possible invasion of the deep planes and of the basal lamina before performing the treatment with iodine solution. If this is not done, we risk the fungus, once destroyed at a superficial level, defending itself by trespassing into those levels where a conclusive action of the iodine solution is impossible.
It is appropriate to highlight that the same type of therapy is also to be applied to psoriasis and to the known fungi afflictions. In fact, the difference between cutaneous mycosis, psoriasis, and tumours consists only of a variation of aggressiveness and thus of depth of rooting, since the causal agent is always the same: a fungus. Sometimes other corrosive salts can be used as a function of the location in the body for the therapy. What is certain is that dermal ointments and lotions are only rarely effective. Dr T Simoncini (oncologist) Rome
Prevent skin cancers.
Homemade cream for skin cancer developed by Dr Gordon Telford. It reduces the incidence of actinic keratosis which precede squamous cell and basal cell carcinomas.
How to make;
Put 2 ounces of skin cream in a sterile container.
Add 14grams (one rounded tablespoon) of vitamin C powder.
Add 4,000 IU of vitamin E
Add 60,000 IU of vitamin A (use vitamin A only not beta carotene)
Add And 1.5 grams of zinc sulphate.
Mix thoroughly
This recipe is from David Williams alternatives November 2005
I am currently treating basal cell carcinomas with iodine. It did not clear completely after laser treatment! Not to be ignored is that our immune systems suffer when fighting cancer of any sort which slows down any healing by any method. To keep mine strong I wear my Nu-Me protective pendant 24/7. If you want to include this as part of your healing regime too email me margie@life-energy.org and I will organise a mates rate for you.
I will keep you posted.
Up-date for Skin cancer Blog
Availability of 100% iodine varies from country to country. In New Zealand it is pharmacy available.
In other countries if you can't buy it over the counter (and you probably can't) ask your doctor. If these fail it is available from Amazon: IODINE LINK
I fortunately have a sympathetic doctor in my own quest to find a natural cure for my skin cancer and I can happily report that for me it has worked.
I shall still have my six month monthly check ups (just to make sure) but feel confident that the cure for me has been 100%. My doctor advised putting iodine on any skin that was tender or blemished just in case.
I realize that I am extremely blessed having a doctor who believes in and will advise and supervise alternative treatment but even if you don't have this support while following the natural cure route do still have regular check-ups with a skin specialist.
Don't hesitate to email me – margie@life-energy.org to get a discount from me on your Nu-Me.
To stay informed about future health-related blogs, product special offers and giveaways, join our bi-monthly newsletter:
NB:We are not health care professionals so cannot give medical advice. This account is of a personal journey and advise getting a sympathetic health care professional to guide you on your healing journey.