About David and Margie Slinger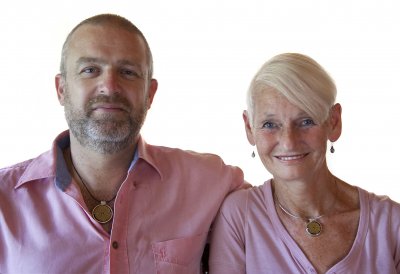 It was in Kenya that we (David and Margie Slinger) started on the journey of education and awareness about energy balancing and EMF protection.
That was a long, long time ago.
While digging the foundations of our house 100 kilometers from Mombasa we found human skeletons! We were living on a burial ground for slaves. Grim? You bet. But it wasn't just the idea that was disturbing – the place felt bad. Creepy, dark, and disturbed were words we'd both use to describe how the place felt. We wanted to run away screaming. As we were financially committed up to our eye balls, so to speak – we couldn't.
Like you we started searching around for an answer. Anything that would take away the terrible feeling and enable us to live comfortably with this historical atrocity.
Our search, like yours began on the internet.
It was there that we discovered the work of Wilhelm Reich a 1940's scientist who discovered a way to move life energy (chi, ki, prana). See technology and testing.
After making devices and burying them, not only on our plot, but in the caves where the slaves had been held before being shipped to the slave markets in Zanzibar. Many died in the caves and were buried in the place that we were trying to make our home! We also dropped devices in the sea. Changes were apparent not only to the energy of the place but also to people's health.
The irony was that although we lived in a traditional village with no electricity or running water there was a cell phone tower! The Africans who could hardly afford square meals struggled to own cell phones which they proudly carried as a status symbol while they were unaware that they were destroying their health.
The local hospital boomed with new patients.
And so our research and education on life energy and EMF continued.
We gave away devices and monitored the results. They changed people's lives.
Returning to New Zealand
When we came to New Zealand we had definite ideas about our future business. It had nothing to do with EMF. But as often happens life had different plans for us and the opportunities kept opening up (and giving us a nudge) into what we are doing today.
Testing, learning and testing some more has been the path we have been led along – and that we have taken.
Lots of people have helped us along the way. And we are thankfully still receiving lots of help and support.
Our first devices were hand crafted and worked wonderfully well but they were labour intensive and our sole aim is not just making enough money to live on, but to really reach as many people as possible to not only improve their lives but often to save them.
We make no claims other than we have proof that they work. If people differ in their opinion we fully respect that. We will not defend our corner, and rather give them a full refund.
Our present devices are more powerful and have evolved from years of research.
Our aim is to empower as many people as possible with protection and information.
Want to know more?

Read more about…