Evidence that EMF Signals from Cell Phone Towers can Cause Pain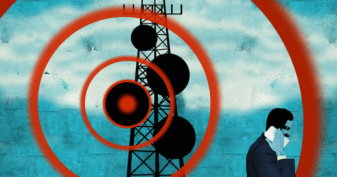 To view a video version of this blog scroll down to the bottom.
Have you ever wondered if the thousands of cell phone towers and electromagnetic signals radiating all around us can be a potential harm to you and the environment? If you have then you are not alone.Some people are now so effected by electromagnetic frequencies (EMF) they have to move to homes and areas designed to insulate them from these signals.Just because these things are not part of our normal perception does not mean that as energetic beings they are harmless.
A recently completed study, by members of the University of Dallas, Texas, gives solid evidence that these waves can actually stimulate nerve endings in amputees, that have been traumatically damaged, causing them pain
This is the first study of its kind to find that absorbing cell tower radiation can be linked to immediate physical changes in our body.
The bulk of research before this study into cell tower radiation dealt with subjects who had no pre-existing serious health issues or conditions.
When a veteran, who, whilst in Iraq, became disabled with the loss of his limbs, told his doctors that his sense of pain increased dramatically when his cell phone was in roaming mode, a study was launched, using lab rats, to test this theory.
Dr Mario Romero-Ortega, Senior Author of the study and an associate professor at Jonsson School of Engineering and Computer Science said:
"Our study provides evidence, for the first time, that subjects exposed to cellphone towers at low, regular levels can actually perceive pain.
Our study also points to a specific nerve pathway that may contribute to our main finding."
In order to validate the veterans' claim of increased pain, amplified by cell phone tower signals, a simulation using lab rats, subjected to the levels and types of EMF radiation that we are exposed to everyday was created.
"To test this theory, the team randomly assigned 20 rats into two groups — one receiving a nerve injury that simulated amputation, and the other group receiving a sham treatment. Researchers then exposed the subjects to a radiofrequency electromagnetic antenna for 10 minutes, once per week for eight weeks. The antenna delivered a power density equal to that measured at 39 meters from a local cellphone tower — a power density that a person might encounter outside of occupational settings."
"By the 4th week, researchers found that 88 percent of subjects in the nerve-injured group showed a behavioral pain response, against only one subject in the sham group exhibiting pain at a single time point which was during the first week."
Cell phone towers are being put up all around the world, in the midst of densely populated cities and even on school grounds. There is already proof that they cause brain cancer but both the general public and the cell phone manufacturers do not consider this to be a sufficient reason to re-think the widespread use of this technology.
We have evidence now that cell tower signals can amplify pain, so is it unthinkable to consider that EMF from cell towers can be causing health problems that have not yet come to light?