Affiliate-Instructions
Welcome to our brand new affiliate system (as of August 2020). If you have arrived from our previous affiliate system(s), then thanks for sticking with us after a bumpy road with a system that was not performing well.
This new system is very user-friendly, is tied into our user accounts, and is embedded fully into our web site.
It has all the features we have had before and the potential to add some new ones:
20% commissions payable on any purchase
6 month cookie lifetime
Commissions paid on repeat purchases
Commissions paid monthly when over USD$50(paid one month in arrears).
No affiliate ID in links to us, if linking from a website. Affiliate links don't look like affiliate links!
Images, videos, and advertising material for you to use.
Custom discount coupons linked to your account – on request.
Some Instructions
The new system is tied in with the user accounts so if you have one of these, you are most of the way here. If not, go to the top right where there it says my account and register. Once registered, you will need to sign up as an affiliate Here
Once signed up, come back here for an overview of how it works or, if you are an old hand at this, go to the Affiliate Area Page
Affiliate URLs
Under the picture you should see a blue menu bar with the default Affiliate Urls bolded and a page looking like the one below.
If you have had an account previously, then we have ported it over. Choose login and forgot password to set your new password.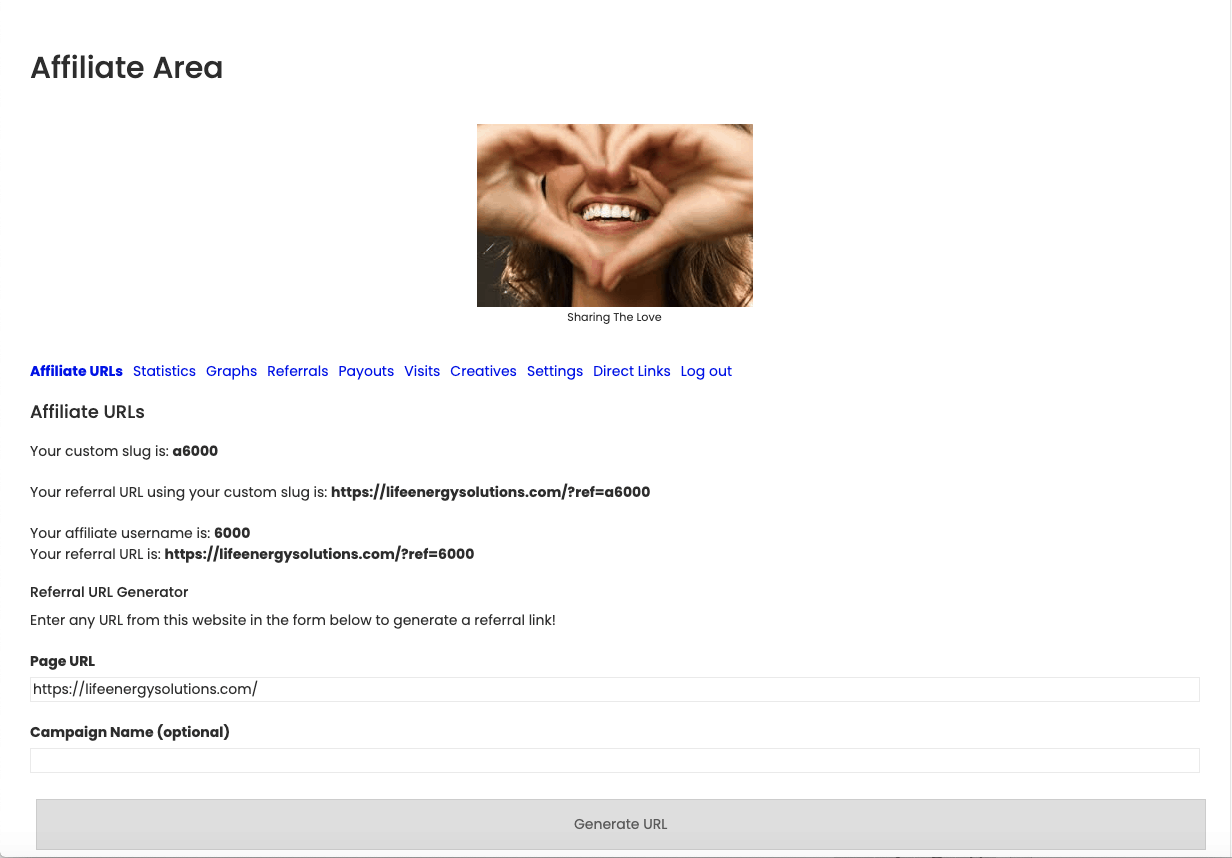 Your custom slug – this is something you can set in settings and it can be any text and numbers but not numbers only. The default username for your account will be the same as set in your username. This won't show here until you set it up.
Your referral url – linking to the home page would look like this fo you to be registered in the system as the referring affiliate when someone follows it.
Referal url generator – here you can generate the link to any page (or simply add/ref=yourusername at the end)
Campaign name – if you want to track which campaign generated the referral, brand it with your own name here and click the grey bar to generate the url you will need to post.
TIP – don't forget that you can shorten these links and get further tracking options by using bit.ly or tiny.url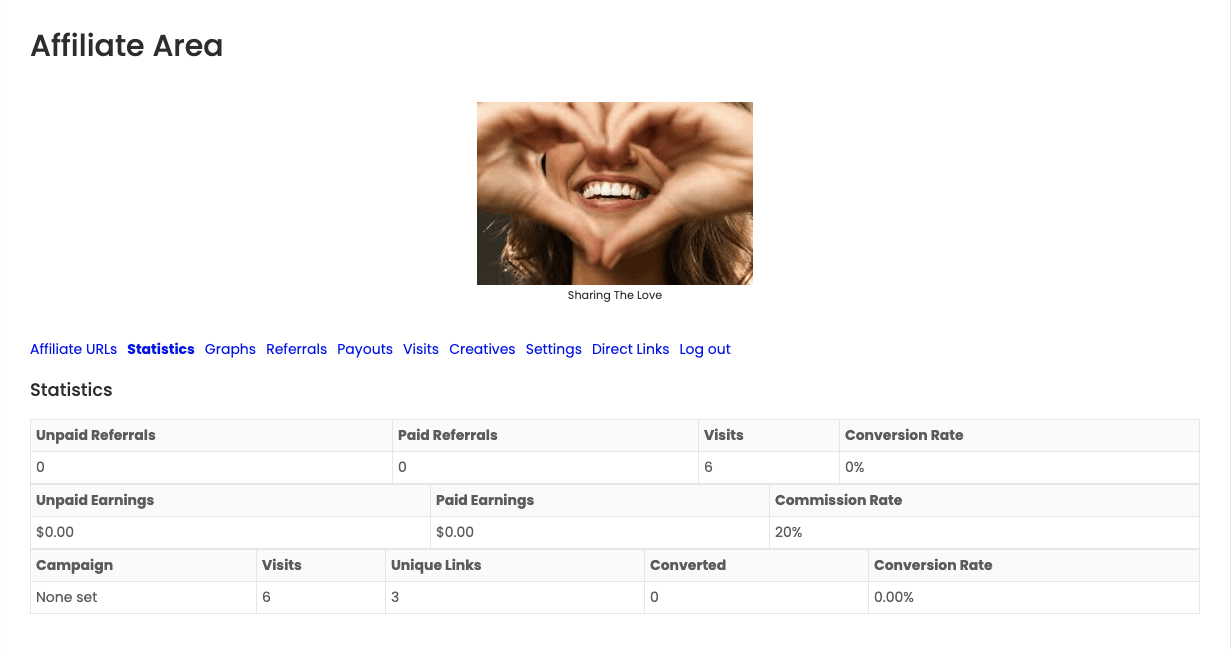 Statistics
Here you can see some data on your account.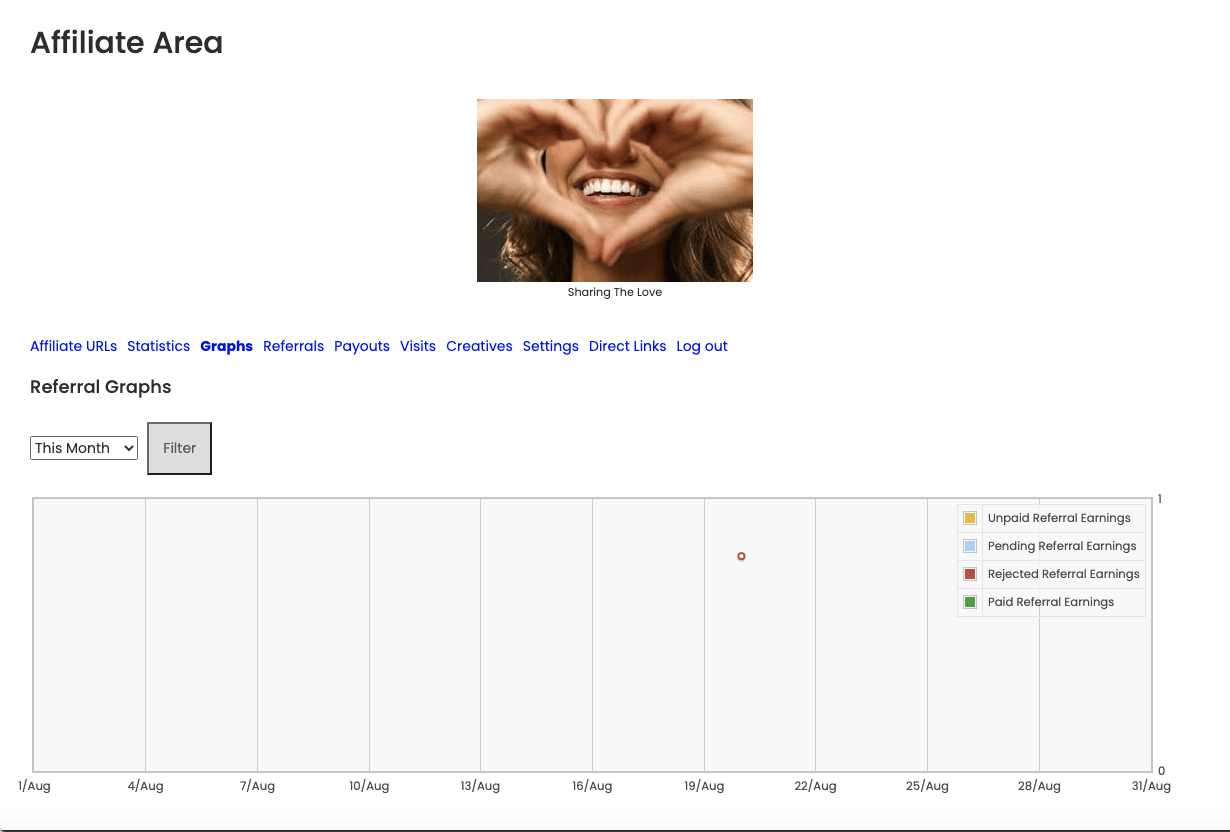 Graphs
Statistics in graph form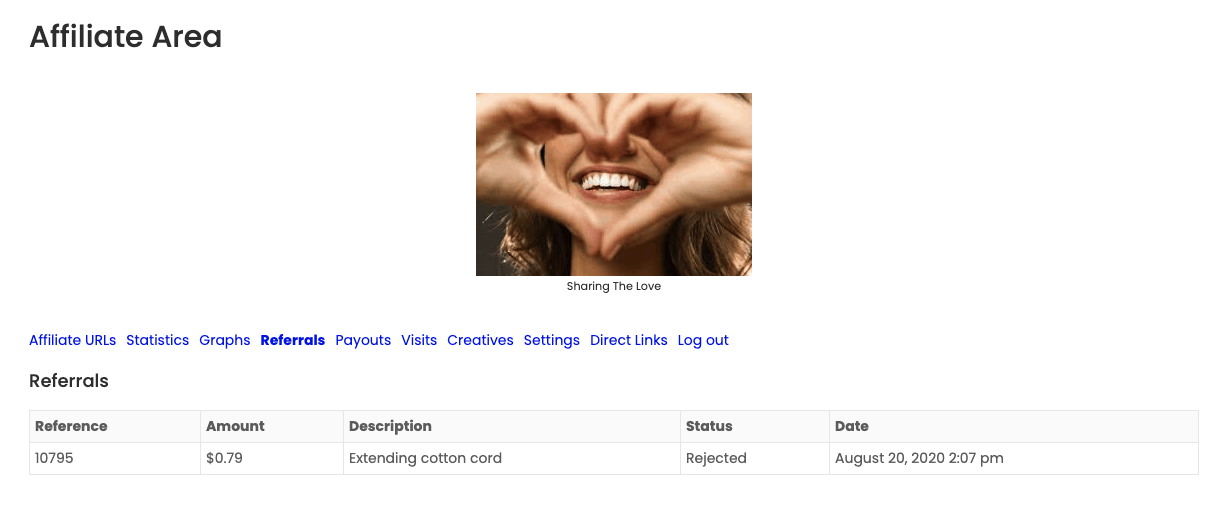 Referrals
This is where you can monitor your affiliate sale with the order number, amount earned, product, status, date.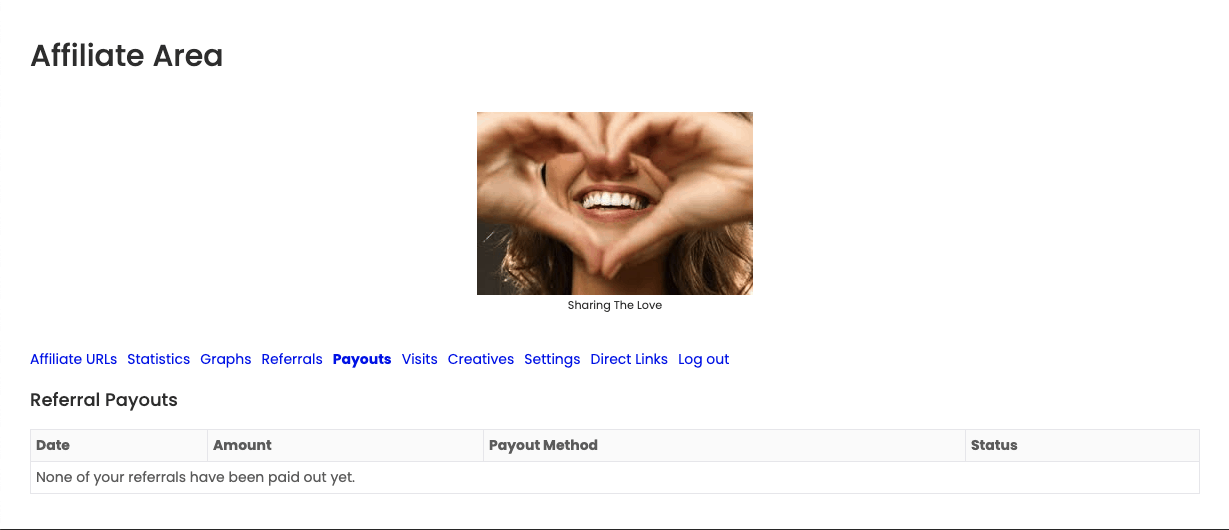 Payouts
Amounts paid to you previously.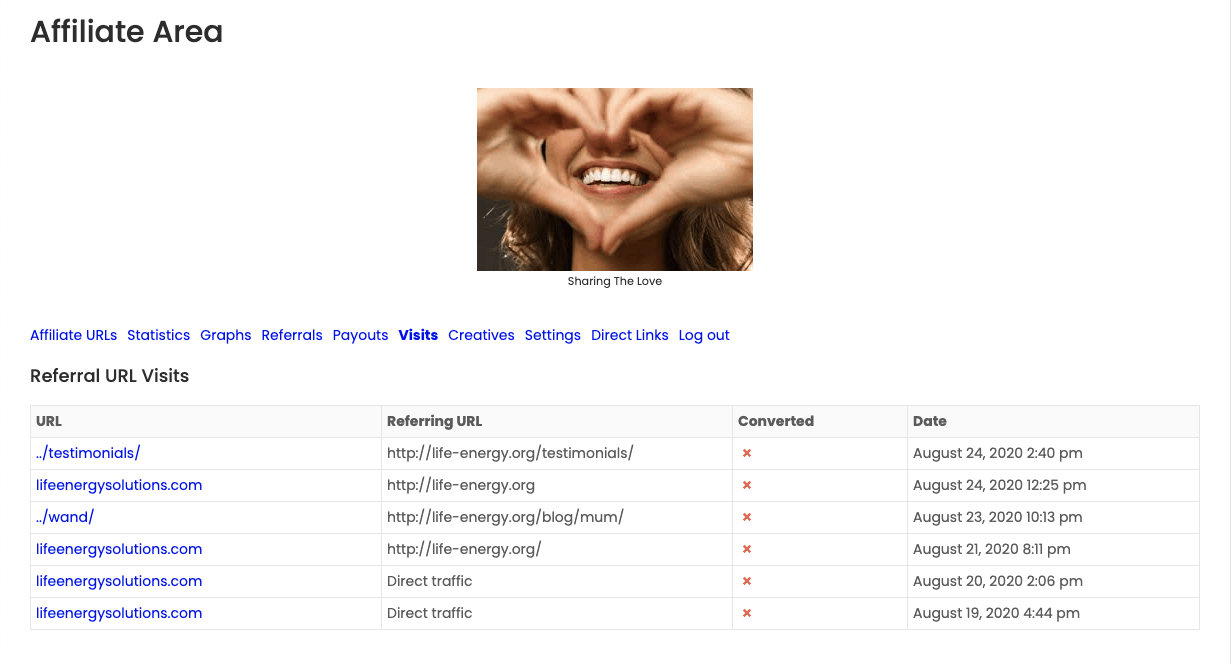 Visits
Where your referrals are landing, coming from, whether they bought anything, and the date/time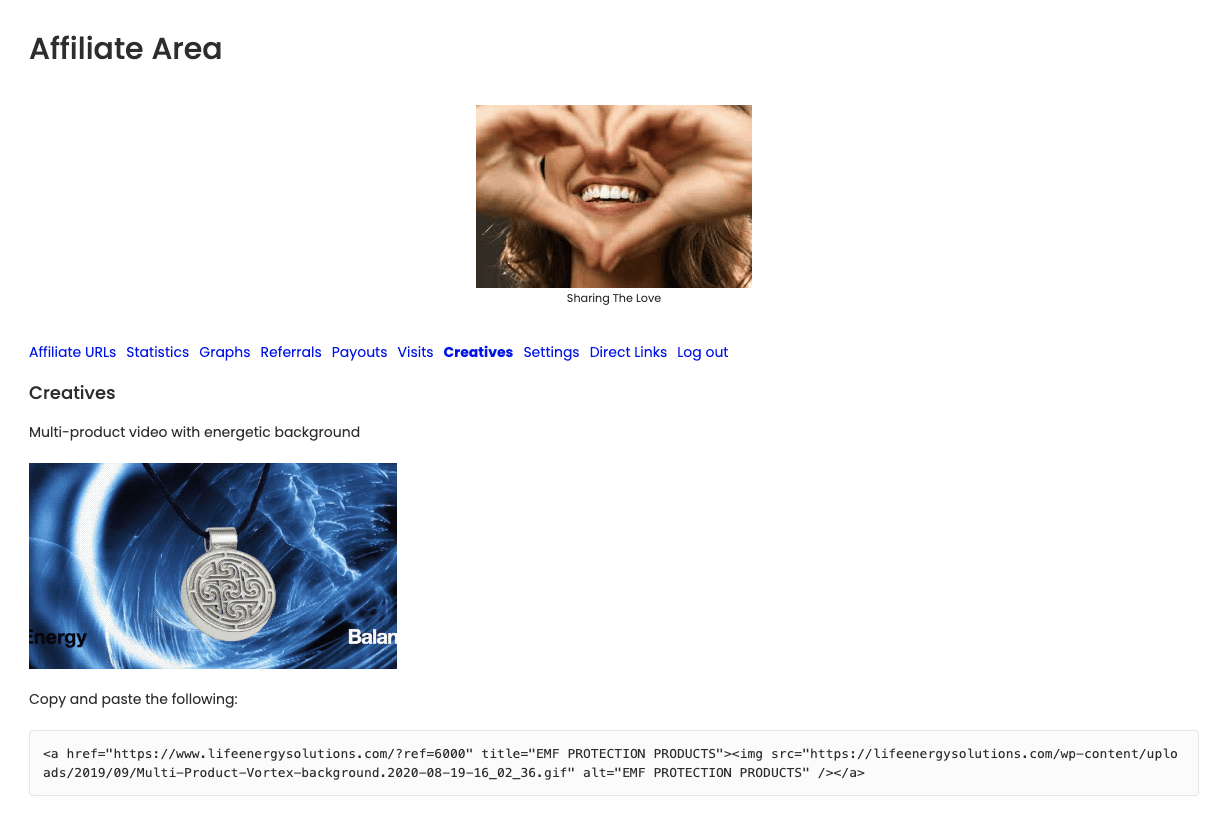 Creatives
Here we have some images and adverts that you can use, along with your personal code for you to copy and paste into your web page / email …
We will be adding to this continually but if you have any special requests, please let us know.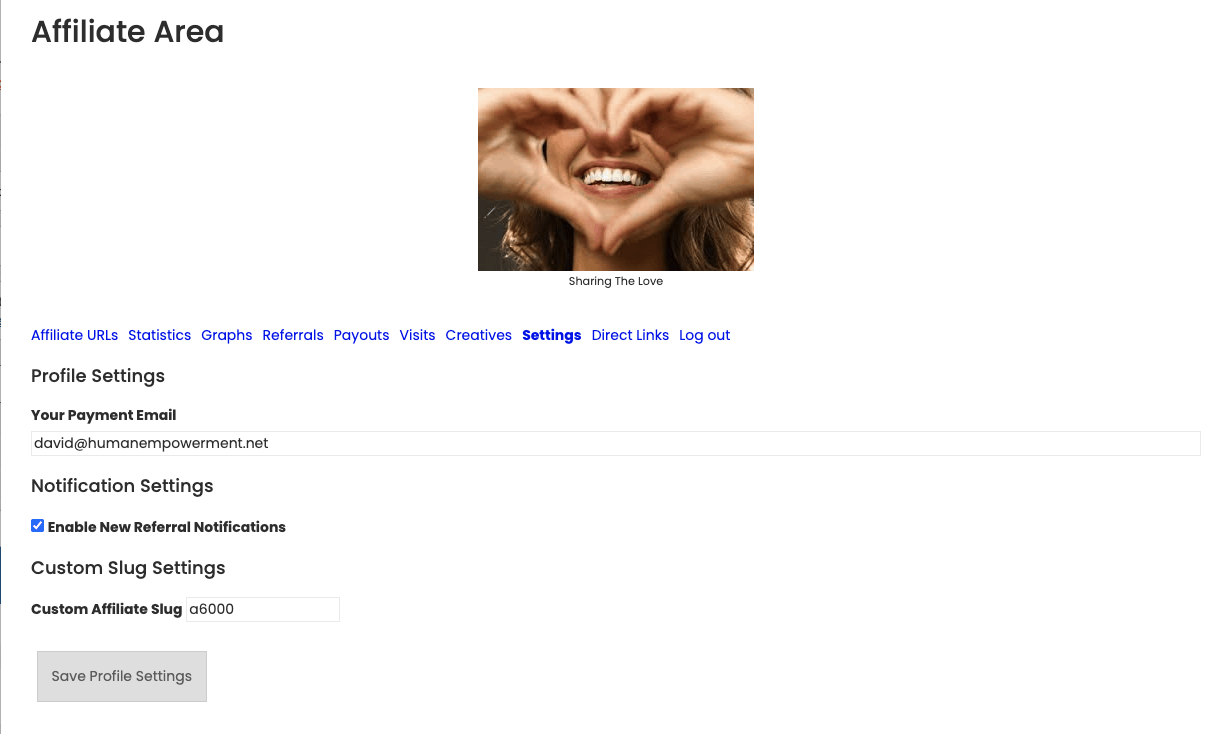 Settings
Here you can let us have your payment email for PayPal, choose whether to receive email notifications of referrals or not, and choose a custom slug for you links if you want one.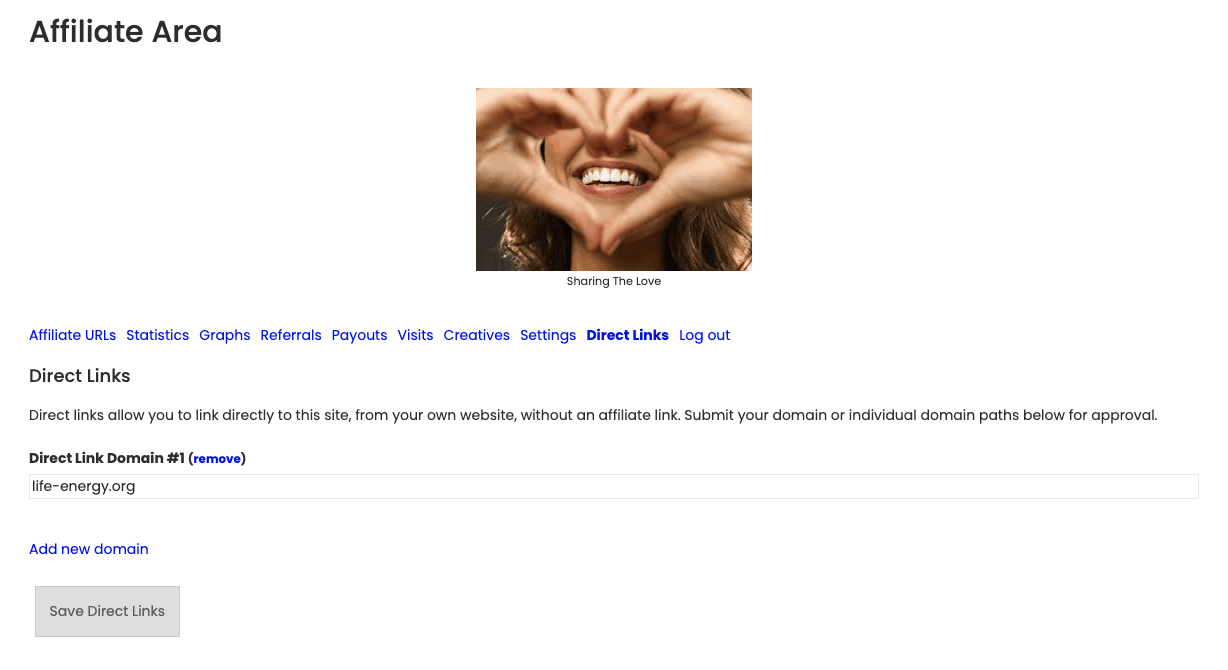 Direct Links
If you have a web site or web sites that are linking to ours then this is where you can enter the domain names. The cool thing is that your links from these sites can now be "naked" (no need for /?ref=yourusernameorslug)
Logout
Exit your account