No-Bake Christmas Fruit Cake
Vegan no Gluten or dairy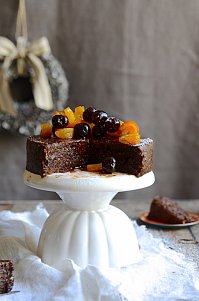 Keep your oven free for other baking this Xmas with this no bake Christmas Fruit Cake recipe.
This is a plant based, dairy free, gluten free, vegan recipe with health boosting whole food ingredients, simply make in a food processor!
Can also be made ahead of time and frozen till you are ready to eat.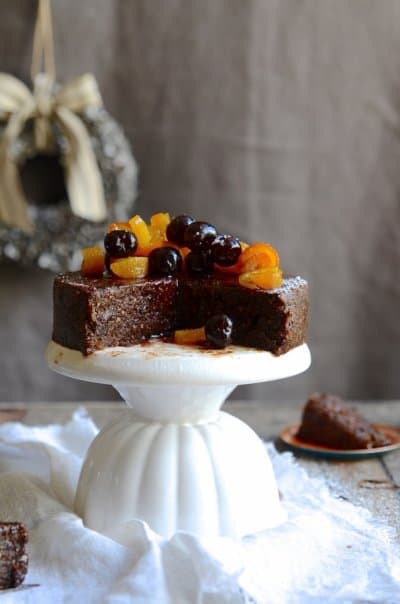 Ingredients
• 300g (2 cups) dried fruit cake mix (raisins, currants, sultanas, orange peel, cranberries)
• 1 tablespoon finely chopped preserved ginger,
• 150g / 1 cup pitted  Medjool dates
• 45ml /3 tablespoons brandy, sherry or fruit juice
• 100g /1cup raw walnuts
• 100g /1 cup raw pecan nuts
• 1 1/2 teaspoons ground cinnamon
• 1/2 teaspoon ground ginger
• 1/4 teaspoon mixed spice
• a generous pinch of nutmeg
• 45ml /3 tablespoons cacoa  powder
• pinch of salt
• 1 tablespoon coconut oil
• 1 tablespoon maple syrup
• preserved or fresh fruit, for finishing
Method
1. Combine the dried fruit mix and preserved ginger pieces with the brandy/fruit juice in a bowl. Marinate for an hour.
2. Roast  the nuts in a pan over a medium heat until they smell fragrant. Cool.
3. Place the pitted dates in a food processor and blitz until broken down.
4. Add all the spices, cocoa powder, salt, coconut oil and maple syrup to the dates and pulse to combine.
5. Transfer the date mixture to a mixing bowl. Pulse the nuts and marinated fruit until fine but with some texture.
6. Add the nut mixture to the dates and combine until thoroughly mixed.
7. If your food processor is large enough, add all the ingredients to mix.
8. Press the cake mixture into a greased 15cm round cake tin, cover with grease proof paper and freeze for about 3 hours until firm.
9. To remove from the tin run a smooth-bladed knife around the sides and turn out onto a cake stand or plate. Top with preserved or fresh fruit just before serving.
10. Keep the cake chilled in the fridge.
11. This cake can made in advance  be frozen for up to 3 weeks ahead of time. Defrost in the fridge overnight.
Prep time: 15 mins
Cook time: 10 mins
Total time: 25 mins
Serves: 12