Life Energy Wand Testimonial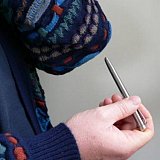 So you've heard about the 'Amwand and Energy Wand' craze, and probably feeling a mixture of hope and curiosity dipped in skeptism.
Our latest product the 'Life Energy Wand' is the by-product of the Amega/Energy wand craze but with a difference. A HUGE difference in fact. You could probably look at it as $$$ difference. If you haven't known by now, the price tag of Amega's Multi level Marketing Amwand is over hundreds of dollars more than our Life Energy Wand.
But the most importance difference is the effectiveness of the Life Energy Wand. Embedded with scalar frequency waves, this particular finish is unique to us as it maximizes the crystals performance making it one of the most powerful healing tools on the market.
Turn this technology into the modern day healing wand and you get a result which could effectively relieve pain, stimulate bodily functions, and assist with healing and strengthening immune system, you could also improve taste and boost the benefit of all foods drinks, and much, much more…
This feedback from mike, one of our whole sale customers, says it all.
"After working on one co-worker's painful wrist (the pain went within 60 seconds and after 2-3 minutes of using the want she had full and unrestricted use of the wrist) the word spread quickly and by the end of the day I had been asked to work on a range of diverse issues – from tense shoulders/headaches to painful backs to knee pain (in a manner of speaking I "came out of the closet!!). The wand in every case stopped the pain relaxed the area around the pain site and restored full mobility. People's reactions were a mixture of incredulity, gratefulness and sheer wonder. I wasn't surprised by what it was able to do, but I was astonished at how quickly it was able to effect change and how easily people accepted its use."