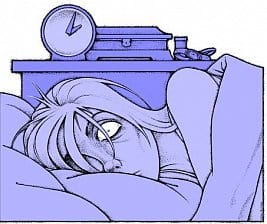 To view a video version of this blog scroll down to the bottom.
Is insomnia keeping you awake? Well if it is you are in good company more and more people are suffering wakeful nights and the dreadful after effects. Why?
There are reasons beyond our control like the energy of the planet changing and speeding up. We are struggling to stay in tune and keep up. It's like living in a washing machine on the spin cycle. Then there are all the natural disasters that are causing angst and negative emotions. No doubt about it we are living in turbulent times. No wonder we can't sleep at night. Insomnia is running rampant alongside all this.
So is insomnia inevitable? Are we destined to become a species of bleary eyed, zombie, yawning, early hour tea drinkers looking out at starry sky's and deserted streets to see if there is any other house lights on, any other sign of life?
And then there are the ways that we sabotage ourselves. Stop ourselves from sleeping. We are good at that. Worry, magnified in the dark hours, disappearing with the dawn. If only we could stop those negative thoughts because they don't serve us at all. Problems are never solved during the night In fact when they stop us from sleeping they also stop us from being clear headed and making rational productive decisions the next day. The following day we are fit for nothing except sleep.
Too busy to eat all day? So evenings become binge time. Lots of food, and an odd glass of wine maybe, perhaps more of it convenience than gourmet because we are so tired after a hectic day (and a poor night's sleep). Of course our body doesn't like it and as our digestive system struggle insomnia kicks in yet again.
Don't tell us, we all know that exercise is good for insomnia so too are hot baths, essential oils, massage, meditation tapes and for heaven's sake don't mention sex because just the thought is tiring. At the end of the day all we want to do is crawl into bed – and stay awake! Such a vicious circle.
Seems like we should just give up on it and accept that we are insomniacs and join one of the clubs. Haven't heard of AA for Insomnia though. Someone should start one after all it can be an addiction. Not for me though thankfully – although I was heading that way – I am now off to bed with my Shell.
Good night, sleep well.