Baby Monitors – More EMF Radiation than Cell phone Mast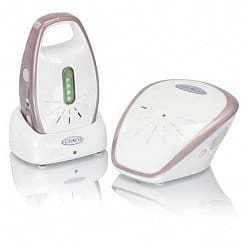 To view a video version of this blog scroll down to the bottom.
Becoming a parent we now face many new challenges that could harm or endanger our children lives. We do our best to protect them but there are some threats out there that most of us are still unaware of.
Many studies shows the harmful effects of radiation from cell phones have on our health, but what about a children's developing health? We now have to consider the risks or radio-frequency-emitting baby monitor's have on our infant's vulnerable un-developed skull. Radiation from this frequency is comparable to the kind given off by cordless phones which is shown to be more harmful than cell phone radiation.
Baby Monitor's use digitally enhanced cordless telecommunication technology (or DECT) to transmit signals. This kind of pulsing radiation has been proven to emit more microwave radiation than living near a cell phone mast. When vulnerable brain tissues take on this much radiation, these prolonged exposures could later show up as brain tumors' or other forms of childhood cancer.
Laboratory specialist recommends placing monitors at least 10 feet away from our sleeping babies, there is also the other alternative of opting for a non-RF, wired monitor, but this could also be of inconvenience.
Of course avoiding all radiations altogether is inevitable as it is all around us and part of our everyday lives. Therefore one of the best possible protection for our babies while using these monitors, as well as other electrical appliances, would be the P.E BAL. These devices balance and harmonize harmful radiation and negative energy around us using the Wihelm Reich's energy-moving technology. It provides a protection field up to 18 meters radius. It is also safe to use, portable and convenient there is no need for batteries or wiring, making it perfect for the whole family.