Resonance – Beings of Frequency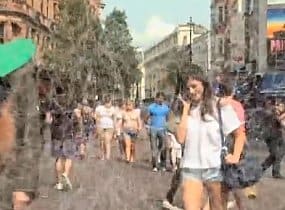 For those of you who know our story, you will know that we are working somewhat backwards with the energy-balancing technology behind our products. We had a problem with night-terrors (Margie) and disturbed energy where we were living in Kenya and found the technological solution that has formed the basis for our products. We quickly found that this solution was also a solution for certainly one of the biggest challenges to human health and well-being today – EMF or Electro-Magnetic Field radiation.
EMF is just one of the forms of disturbed energies that this technology protects against but it is so prevalent and so serious a problem that educating people about it has become a major factor in what we do. More and more research is being done that makes direct links with EMF and cancer as well as a host of other disorders.
If you are a new to this subject or if you are a veteran EMF researcher, then you need to see this film.
Without giving too much away it explains in layman's terms what EMF is, why it is hurting us, and what some of the politics are behind the blinkered explosion of EMF sources in our environment without due care to our well-being. It is about an hour and twenty minutes and you can watch for free on YouTube – embedded at the top of the page.
See our EMF solutions for: