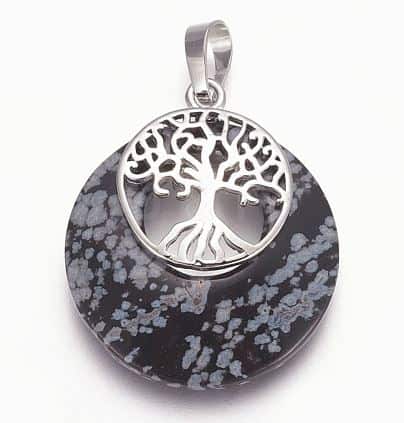 Crystal Tree of Life Doughnut Pendant
This lovely piece of crystal jewellery comes in 5 different crystals:
These have been embedded with the Solfeggio frequencies. This adds a powerful vibrational healing resource over and above the crystal's natural healing vibrations.
A gorgeous piece of crystal jewellery with healing benefits!
The Crystal Tree of Life Doughnut pendant is about 27.5~28mm X 32.5~33mm X, 5~6mm thick. It comes with a cotton cord and in a drawstring gift bag. The perfect present for someone special, and that includes yourself of course.
Compare
Additional information
| | |
| --- | --- |
| Dimensions | 3.3 × 2.8 × 0.6 cm |
| Tree of Life Pendant | Snowflake Obsidian, Lapis Lazuli, Red Jasper, Green Aventurine, Amethyst |