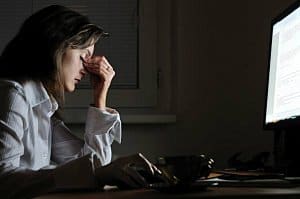 In 2009 forty women who have developed breast cancer working night shifts in Denmark received compensation from their government.
How is breast cancer linked with working at night?
The hormone melatonin is not only essential for sleep it is also works with the cells to prevent cancer. When its production is impaired it puts the body under risk. It is only produced at night when dark. Light stops the pineal gland from producing melatonin.
Electromagnetic radiation has the same effect on the pineal gland as light – it stops it from producing Melatonin. In fact EMF confuses the Pineal gland into thinking that it is light. So exposure to EMF radiation not only causes Insomnia it also increases the risk of cancer.
Dr Vincent Cogliano of the International Agency for Research on Cancer (IARC) told the BBC
"Melatonin has some beneficial effects in preventing some of the steps leading to cancer. The level of evidence is really no different than it might be for an industrial chemical being a 'probable' carcinogen, the same as EMFs."