* RadiSafe phone shield super deals, * Does Santa have a cell phone? * Erectile dysfunctions blamed on cell phones, * Christmas package save money!, * Win a P.e.bal * Winner of the Skinny Nu-Me and Chi-Shell or Kibal.

Read now for news, tips, and insider special offers for life energy products, healing, protection, and well-being. New mobile-friendly format.

> Erectile dysfunctions blamed on cell phones.

> Win a P.e.bal

> Winner of the Skinny Nu-Me and Chi-Shell or Ki-bal

As more and more information comes to light about radiation from cell phones – 

see below about research that affects erectile function and fertility 

– our 

Special Christmas offers give you the ideal gift for your loved ones to protect them from cell phones and cordless phones:

2 Ki-bals and 2 RadiSafe phone shields

 

This offer has 2 of our Ki-bals and 2 RadiSafe for a great discount price.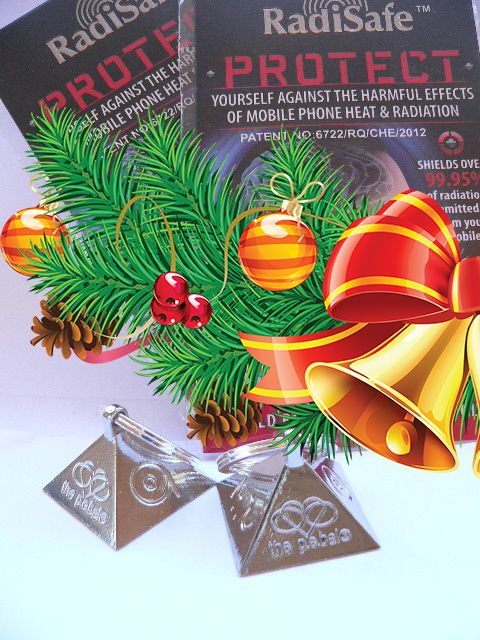 "Oh, the RadiSafe is nothing short of astonishing.  I usually can't deal with a mobile against my head for more than 10 to 15 mins due to a somewhat painful "tingling" in head and hands, but I had a call for about 30 mins and didn't feel a thing with the RadiSafe on the back of the phone. Wow!"  Steve Humphry, Australia.
Impotence caused by cell phones research shows.
The Central European Journal of Urology published a study that shows
men who hold a cell phone for more than four hours a day are more likely to suffer impotence.
 Researchers found that males who had previously suffered erectile problems carried phones for longer than those without problems, despite no significant differences across smoking, age or testosterone levels between groups.
Source   Mindfood June 2014
It's been a while since Santa visited me (cue violins) but from what I remember he lives out 364 of his days a year in the frozen North (Lapland or the North Pole somewhere?).
Wherever he lives, it must be fairly remote and as a consequence far from a cell phone tower and any type of power grid.
So, if the answer to the title question is yes then
……
Read more….
"I am enjoying the RadiSafe device I purchased recently to put on my phone.  I can truly feel the difference it makes and purchased another RadiSafe to put on the smart meter under our stairs.  I am keen to try out your other products and have put a few things on my list this year for "Santa."  Maria, Australia
This month's fr*ee prize draw is for a P.e.bal which will protect you ad your whole family from Electromagnetic radiation.  Just answer this easy question for your name to go into the hat.
"What does P.e.bal stand for?"
You will find a little help here
The draw will be made at the end of December – what a great New Year present for the winner!
"And we're reaping the benefits big time after having ordered one of your P.e.bals and Negater shell.  Still can't believe how good they work, after trying so many other products.  Almost too good to be true!!!  Thanks you for standing strong in this world of people who put their heads in the sand oly because it;s invisible energy.  I know what i feel and EMR effects your body….100% certain of that."  Sylvia Hendrikz, NZ
The winner of our great Christmas Package prize
Congratulations
S
tephanie Dymock on winning the Skinny Yin-Yang plus a snake chain and a Chi-Shell or Ki-bal.  Send your mailing address to 
jo@life-energy.org
and let us know if you want a Chi-Shell or Ki-bal.
"Just to say, firstly, how thrilled I am to have the new Nu-Me. Having had all the previous ones, including the shell (beautiful but weighty!), this one is
'la crème de la crème'.  It is wonderful to have a lighter weight around the neck and also to have the increased potency for EMF protection.  I have been wearing it all morning and the strength is definitely more than even the large, older Nu-Me.  Well done Life Energy team!.  I am primarily using the Nu-Me to neutralise EMF while on the computer for work." D. Benson, NZ
Life Energy Designs NZ Ltd.  +64 (0)9 4166959 info@life-energy.org www.life-energy.org