Energy Balancing at Christmas.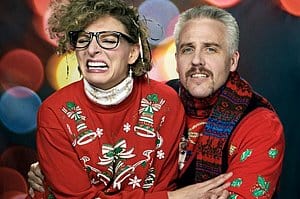 It is always good to meet customers old and new, especially as we are mostly ensconced in our not so ivory tower most of the time. At Organics Out West in Auckland on Saturday we were able to do just that.
We met customers that have been with us for twelve years and still have our original Negaters alongside P.e.bals they tell us. Old alongside the new. We met new people who didn't even know that we existed but were looking for solutions. We met old friends who wanted to catch – up. We met customers who wanted to see and touch our new products.
Amongst everyone there was a common thread however – Christmas. Again different strokes for different folks but almost unanimously the hesitation about family dynamics and coping.
Most people that are aware of electromagnetic radiation and in fact energy of all sorts – negative and positive, find dealing with people can be very draining. Have a look at our video about how people steal energy at Christmas.
Dare I say that there was a little bit of dread expressed about "family Christmases"? We know we should be excited about Christmas – well we were when we were kids weren't we? But! Now it isn't about our joy only – we are pandering to every one else's agendas that seem sometimes to get in the way of the pure, unadulterated joy that the season is supposed to be.
My advice while facing my own family get-togethers is – make sure that if you own a Nu-Me wear it. If you don't – stuff every P.e.bal, Negater Shell, Ki-bal and Chi-shell you can find into your pockets. Keep your own energy balanced – and well – sweet. Don't take on the traumas, dramas and tantrums of others because – they are just that – THEIRS.
Have a sane, merry, joyful and balanced holiday and a New Year bursting with blessings.