EMF questions to ask when booking a holiday – how much EMF exposure will I get?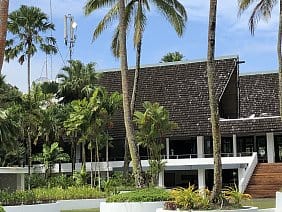 To view a video version of this blog scroll down to the bottom
Booking a holiday is exciting. That's a no-brainer statement. Usually we do our research because the brochures only tell us so much about our dream destination. Mr Google makes it so easy now-a-days, people happily post about their experiences, good and bad. Google maps even show us where our accommodation actually sits on the land, and how near it may be to the sea. But, and this is a big but, nothing tells us about how much EMF we will be exposed to while we are holidaying.
Of course, we expect Wi-Fi exposure 24/7 – we can't turn off the hotel router at night after all. The hotel will abound with EMF as does all public places now, even in rural or coastal areas. This is how the modern world works. We know this even though, unlike many, we are aware of EMF radiation and try to limit or avoid exposure to it as much as we can. But- that but again – how much exposure are we going to actually get while away?
Recently we holidayed in Fiji. A magical spot. A place with friendly people, gorgeous scenery, sunny weather, all the ingredients for a fabulous restful, recharging-our-batteries break. We stayed in boutique chalet accommodation, nothing flash but very comfortable, with no nasty EMF shocks. There were no overhead power lines or nearby cell phone towers. The beach was on our doorstep providing lots of negative ions. Paradise. Fiji, although now a
popular holiday destination, hasn't lost its old-world-charm and raw beauty.
Well we had found the perfect spot – for us – but we wanted to see more, so off we went exploring in our little hire car.
The sea was very blue, so was the sky. Palm tree fronds gently waved at us, with the help of breeze, as we drove past. The Fijians waved also as we drove by. This was indeed a friendly paradise. A healthy paradise – good for the body and soul.
Our travels needed to be punctuated by coffee, or more accurately cappuccino, breaks and with this quest we pulled into a very up market, five-star hotel where we could only afford a coffee and not their accommodation. The massive sculpture of an eagle with a pearl in its claws dominated the entrance. Not only impressive it signified the name of the hotel, The Pearl. The grounds were manicured, the building regal, the location breath taking. If you saw this in a brochure you would drool.
We had our coffee while gazing out on the azure ocean sparkling with sunlight. Afterwards we wandered through the grounds discovering white table clothed restaurants we couldn't easily afford. It was all very grand. As we gazed at the impressive building, almost hidden by coconut palms we saw it. Huge, like a monster with tentacles reaching out into every nook, cranny, and corner of the hotel property. Centrally situated, Lording its surroundings, a massive cell phone mast with multiple transmitters, a deadly rosette on its stem.
Now this is definitely NOT something you would need on your precious, well deserved holiday of a life time. It would negate any benefits received from sea, sand and indulgent luxury. You would indeed need a holiday to get over this huge amount of EMF exposure – or a spell in a health care facility. This is as much sheer madness, exposing unsuspecting hotel guests to unwanted radiation, as the cell phone tower we saw proudly atop a medical centre in Auckland*. We wouldn't have even sat unsuspectingly drinking a cup of coffee in this hotel if we had known. Just the thought now gives me the shivers.
So, the moral of this story is – check and double check before booking any away from home accommodation. Of course, the reality is that you would never likely find out about something like this unless some one posted it on their feedback. And then that is unlikely, because EMF awareness is still in its infancy, and for most holiday makers location, service, food and activities are their prime concerns. Undoubtedly these make or break your holiday – but – they are much less important if you are feeling ill throughout your holiday because you are being fried!
When travelling don't forget to take any, or all, of our protective products you may own. And – happy, healthy holidays.
*See our blog http://lifeenergysolutions.com/blog/cell-tower-health-center/