Coping with the death of a pet isn't easy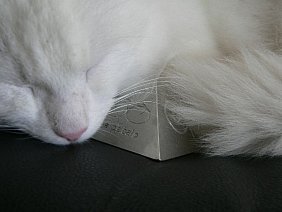 Pets really appreciate this technology
Thanks to Carol for this inspiring story. It was too long for a testimonial and it deserved a space of its own:
Recently I lost my 19 yo cat, Zara -a very loving little Tabby, born and bred on the home property here -the last of numerous cats I've shared my home with over many years. Because I'd never had a cat live to Senior citizenship before, she was Special, and we grew very close. For 2-3 years she'd not wandered far at all -and as the weather cooled, she spent most all of her time indoors -near the fire! … She was 'off colour' so I made an appt with the Vet for an examination – they reported she needed a variety of tests [a very uncomfortable procedure for an elderly cat!] -that they would keep her overnight in the Clinic 'hospital'(??). I wasn't happy about that -knowing she would be terrified by such an experience -but unfortunately, I complied. Next morning the Vet rang to say she'd had a 'fit'/seizure, or 'something'! overnight, and was almost dead when they arrived at the Clinic but they revived her and told me to come right away to see her. I was upset and not just a little shocked with that news, so went as soon as I could, to the Clinic. It was a frosty morning; she was very cold to the touch and with little movement… She had been left alone all night, in a cold room, separated from her familiar WARM environment [I believe it was a great shock to her system that caused the 'seizure/fit'] -but when I spoke to her she immediately knew my voice and opened her eyes; she tried to 'talk' to me as I talked with her, but her energy was very low and her attempted responses very weak -though she DID respond to me in her way! I knew SHE knew, I was there. I wanted to bring her home and let her die in my arms, but because she was 'hooked up' to life support -they disallowed me from that. Remember she was a cat who'd lived a very COSY life – never away from where she'd been born. I decided to use the Shell Negator on her [in hindsight, I wish I'd left it with her in the cage overnight!] , since she'd often responded to energy work I'd done in the past. I rested her head on my right hand, placed my left hand gently on her cold frame, after placing the Shell Negator near her, in the cage… I stayed with her that way for almost two hours that morning -delivering Reiki to her simultaneously.
As time went by I saw that she was becoming calmer, and calmer, till I decided she was calm enough for me to leave her and have a long chat with the Vet… it was a very helpful chat, and I finally accepted that Zara's passing was imminent -I'd been able to spend quality time with her at the end, that the Negater Shell had been effective, helping to bring her to a peaceful status [together with the Reiki] -that I could say Goodbye to her – and let her go – in Peace… It was indeed a sad parting and I have grieved for 2 1/2 months since then but I had to share with you the part the Negater Shell played in the last hours of Zara's life on earth … please accept my sincere thanks for supplying them and all your other helpful products! [of which I now have a few] ….
My Nu_Me Pendant is often commented-upon when I wear it out – and the two Negater Shells plus the two p.e.bals in the house here -are "Energy to Behold" [as mentioned in a recent email to you from a friend of mine!]
Best wishes … from Carol