Government Make Energy Saving Bulbs Compulsory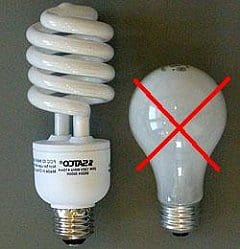 – Ban of incandescent light bulbs chips away a bit more of our freedom
High EMF radiation emitting, mercury containing compact fluorescent lamps better known to many of us as energy-saving bulbs are to be a compulsory alternative in New Zealand to the older safer although admitted less energy efficient, traditional, humble incandescent bulb. Is saving $$$ more important to governments than the health and wellbeing of the people? And why can't we have both with affordable LED bulbs?
They have done it again! A Government decision that takes away a bit more of our freedom and even worse put our health at risk! All under the guise of being good for us. They talk of the benefits but neglect to tell us that the disadvantages are greater.
New Zealand will next year ban incandescent light bulbs in a bid to conserve energy and cut greenhouse gas emissions, Climate Change Minister David Parker announced on Tuesday 17th June. "It is intended that from late next year, these inefficient incandescent bulbs will be phased out because they waste so much energy," Parker said in a statement.
New Zealand will ban traditional light bulbs in favor of energy-saving alternatives in 2009; new minimum energy standards would mean no fresh stocks of the incandescent bulbs could be imported from October 2009.
"New Zealand is uniquely placed to lead the world in the change to energy efficient lights" said Gordon Wiffen, commercial manager of Philips Lighting!!!! (Vested Interest, perhaps?)
But what are the governments and big corporate businesses not telling us while they have $ signs in their eyes?
How dangerous energy saving bulbs are on our health and the environment.
* They contain mercury which is extremely dangerous if the bulb gets broken and when it is disposed of in landfill.
* They emit high levels of EMF radiation.
Mercury is poisonous as we all know. Drop a thermometer and we freak. It's also a necessary part of most compact fluorescent bulbs. So what if we accidentally drop an energy saving bulb?
And how do we get rid of them when they die? Land fill garbage dumps? At least the American's who bought in excess of 150 million energy saving bulbs in 2006 are aware of this problem and are working on safe disposal outlets. So New Zealand as "world leaders" why aren't we disposing of them safely here? Shouldn't this be an important part of the plan?
Mercury affects the nervous system. We all know the saying "As mad as a hatter" (from Alice in Wonderland). This originated with 19th-century hat makers who were continually exposed to Mercury's toxicity.
Besides making us insane it can damage the kidneys and liver and exposed to enough it will kill us. O.k, these are probably extremes, but in whatever quantities there is, it is going to damage our health.
We may not break a bulb very often but every bulb will have to be disposed of. American government scientist Steve Lindberg found that some of the mercury emitted from landfills is in the form of vaporous methyl-mercury which can get into the food chain, more readily than inorganic elemental mercury, when released directly from a broken bulb.
But mercury is only part of the story. There is so much EMF radiation from energy saving bulbs that they are causing people to become electrosensitive. To read one such story take a look at my blog "The hidden truth about energy saving bulbs"
Electro sensitivity is the most extreme symptom of exposure to EMF when the suffer can't lead a normal life, watch TV, use a computer, phone or ride in a car. But any of the following symptoms could be the result of EMF.
* Headaches
* Irritability
* Fatigue
* Depression
* Insomnia
* Poor memory
* Rashes
* Sexual difficulties
* Shortness of breath
EMF radiation causes the following:
* Insomnia
* Inability to deal with fevers
* Increased risk of heart disease and arteriosclerosis
* Increased cholesterol
* Increased blood pressure and the possibility of developing blood clots
* Increased risk of strokes
* Miscarriages
* Reduced T cells which attack cancer and virus cells.
* They also help prevent:
-Alzheimer's disease
-Lou Gering disease
-Parkinson's disease
-Multiple sclerosis
And researchers in England claim energy saving bulbs can trigger migraines, epilepsy, and lupus.
There is an alternative that saves more energy than any other bulb and is completely safe – LED bulbs.
But in New Zealand, and many other countries LED bulbs are only available as a GU10 fitting (for small, originally halogen, spot lights) or not at all. They are of course available by mail order – but – ouch the price. You need to be a millionaire to replace all the light bulbs in your home. Or maybe there could be some government grant to help the rest of us?
Meanwhile in preparation for the government enforced health risk of energy saving bulbs protection is already available.See the p.e.bal.